Manage the attributes associated with your vehicles through Zubie web portal.
1. Login into your account at app.zubie.com.
2. Go to Settings > Vehicles.
3. Search and select a Vehicle and click the Edit Icon 

.
4. Update the vehicle attributes:
Vehicle Nickname:  Vehicle number or other unique way to identify a vehicle
Primary Driver (optional):  The driver that typically drives the vehicle.
Odometer:  The current estimated odometer.  Overriding this will reset the odometer and future trips will be incremented based on trip mileage.
VIN (optional): Vehicle Identification Number, if known.
Tags (optional): Think of these as labels for grouping/filtering vehicles across Zubie.
Vehicle Style (optional): The Year/Make/Model.  This is usually automatic based on VIN, but can be overridden.
Fuel Economy (optional): The MPG/ Fuel Type based on your vehicle settings.  We default this based on your VIN, but you can override. This is used for Fuel Cost estimates.
Permitted Driving Hours (optional): Setup a custom schedule for when a vehicle is allowed to drive.  This is used to trigger off-hour driving alerts, and permitted trip reports.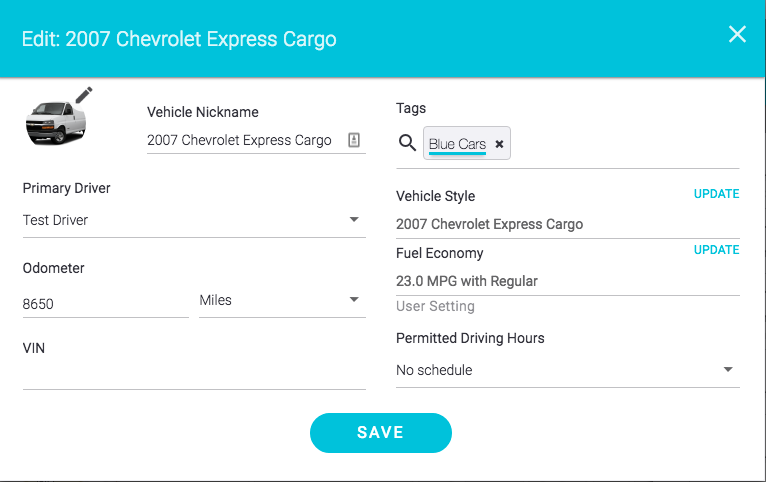 5. Save.