Zubie lets you track driving speeds as a measure of driver safety.
Users can analyze how well drivers comply with the posted speed limits - visually on trip maps, in trip stats, and for business users, in all weekly/monthly reports. 
Zubie calculates two new metrics for each trip to distinguish between "common" speeding and severe speeding:
Minor Speeding: The % of trip spent above the limit (>5mph in city, >8mph on highway)
Major Speeding: The % of trip spend above the limit (>10mph in city, > 12mph on highway) 
In the Zubie App
1) In your live map you can view speed by the colors shown for the trip. Simply scroll down to view this information. 
Tap the map to expand into a full-screen map-view.
Tap the color-coded line segments to see the actual speed versus posted speed for each segment.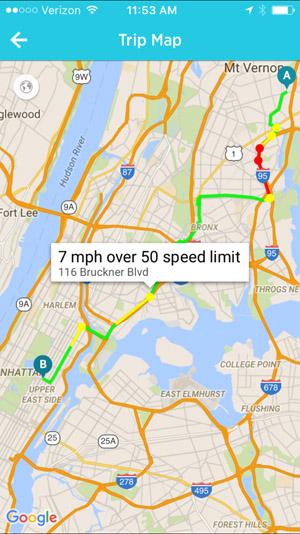 You can also view this breakdown under Trips (Menu>Trips).