Zubie continuously monitors your vehicle health, including engine, battery and fuel systems.    You can view current health in the app, or enable alerts to get notified bout critical problems. 
To View Vehicle Health in Zubie App
1) From the main Zubie screen (Live Map), choose a vehicle by tapping the icon.
2) Pull up the vehicle details tile by tapping or dragging the grey arrow. 
To View Vehicle Health in Zubie Web Portal
1) Login to the Web Portal (app.zubie.com)
2) Select a vehicle, and choose the Details tab on the right side.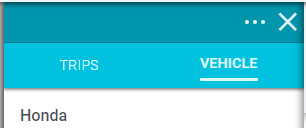 Engine Monitoring  

Every time your car is turned on, Zubie conducts a self-test of your engine.  This includes diagnosing systems that can affect your vehicle safety, emissions, or efficiency. 
If your Check Engine Light appears, Zubie will alert you about the problem.  The associated Diagnostic Code (DTC) and description is shown in the app.
In some cases, Zubie detects problems before your Check Engine Light even comes on.  In this case, you'll see a yellow Engine Icon and a "Minor" warning, and details about what system is experiencing issues. Sometimes these minor problems grow into major problems, and other times they will go away.
For most DTC codes, Zubie provides more information in addition to the basic description. In conjunction with its partner RepairPal, Zubie may also provide associated engine trouble information such as common symptoms, common causes, and even common fixes and potential repair cost estimates.
In addition, Zubie provides a way to find repair shops in your area. You'll be able to see a listing of these shops along with their contact information, service hours, and customer reviews. You can select a specific shop for more detailed information.
Most service providers charge a hefty fee for providing the same diagnosis.  Now you can give your mechanic the code in advance to determine if it is a critical issue that needs to be fixed!
To enable Alerts for Engine problems, go to Settings > Alerts > Vehicle Health Events. 
Battery Monitoring  

When you are not driving, your battery is not getting charged. So Zubie checks the voltage of your battery every 6 hours.
If it drops below 11.5 volts, Zubie send you an alert.
The latest battery level is also reported in the app. 
To enable Alerts for Battery problems, go to Settings > Alerts > Vehicle Health Events. 
Fuel Level Monitoring  

Zubie tracks your fuel level, displays it in the app, and alerts you when it gets close to empty.
Fuel Level tracking is not available on all Makes/Models - only about 80% of vehicles in the Zubie system report it.  If you don't see a "Fuel Level" section in the app, your vehicle doesn't report it.
Use the Fuel Finder tool to find nearby gas stations and check for the lowest current prices based on your car's fuel type.  (Fuel Finder is in the upper righter corner of Live Map, just tap on FUEL).
To enable Alerts for Low Fuel Levels, go to Settings > Alerts > Low Fuel Alerts.  You can customize the Low Fuel Tank Level. 
Service Reminders  

The Vehicle Health section also shows reminders about upcoming service needs.  Checkout this article on how to get setup.