Live Map is the most frequently used Zubie Business tool, providing real-time insights into fleet activity.
Live Map powers all of these features:
To access, go to app.zubie.com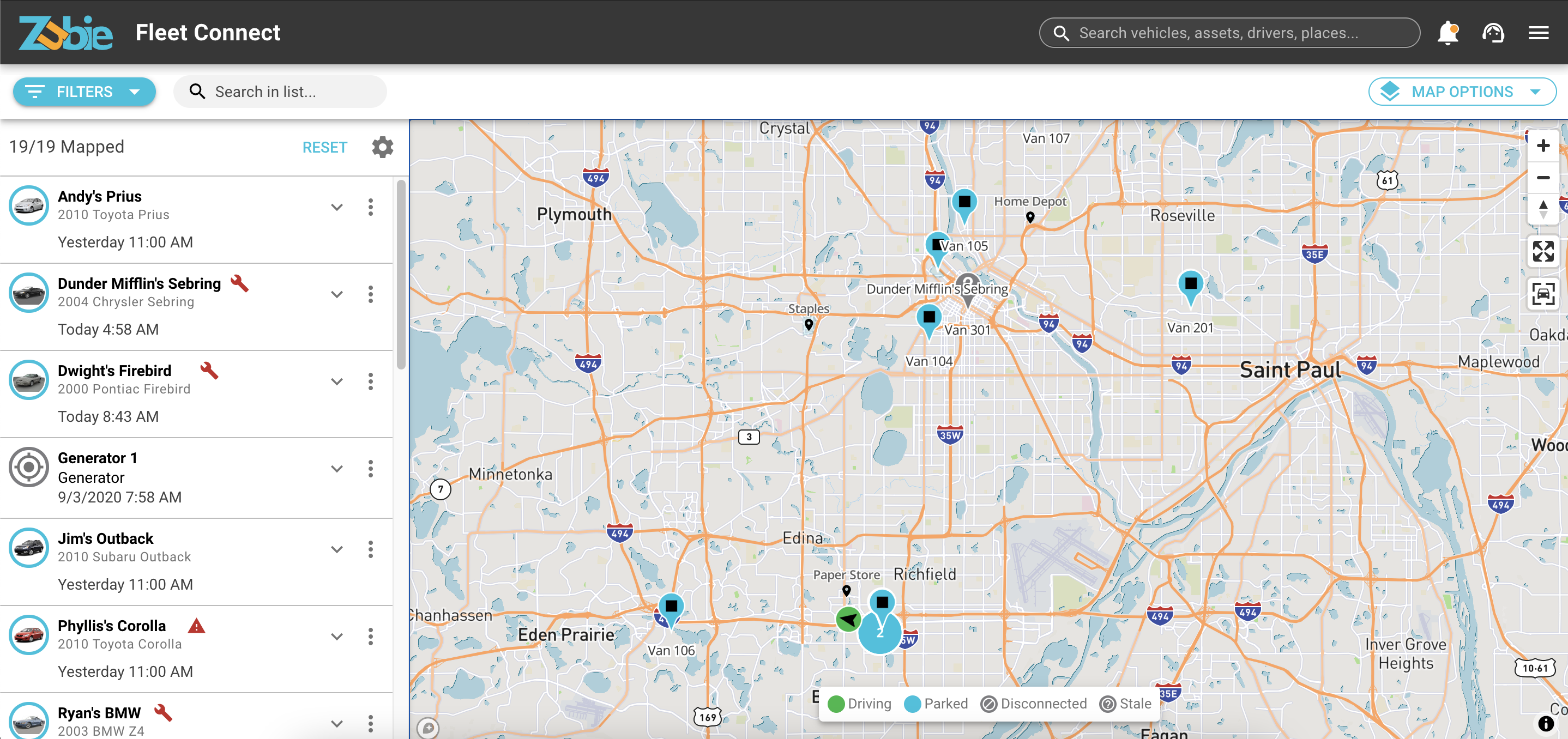 Map Settings + Tools
Live Map is powered by Mapbox, which includes both official and community-sourced data and is frequently used by business applications.
1. Click the Map Layers Icon

to toggle these layers on the map:
Traffic: Shows real-time traffic status
Satellite: Shows a satellite (aka Google Earth) view
Places: Shows the Places you've saved in your account
Clustering: Groups nearby vehicles together into a cluster icon - great for large accounts. See this article for more details.
Nicknames: Shows vehicle nicknames in pins instead of vehicle images
2. Use the Zoom icons

or double click to zoom in on the map.
3. Drag the "Street View" guy to a road to see a real picture of the road.
4. Right Click anywhere on the map to Add a Place, or find nearby vehicles.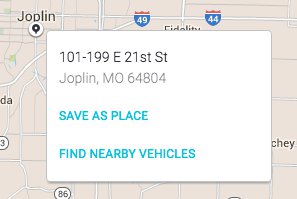 Monitor Real Time Location
Live Map shows real time locations for up to 100 vehicles in your account. Click on a Vehicle in the Vehicle List (right side) to zoom into the vehicle.
Vehicle Icon Colors
Vehicle icons are color coded based on the vehicle status:
GREEN

Vehicle is currently in motion. If speed is >10mph, the direction arrow is shown.

BLUE

Vehicle has reported a trip or location heartbeat in the past 24 hours

GREY

Vehicle location is stale. This may be due to inactivity, or a disconnected device.

Vehicle Status
On the right side of the screen, vehicles are listed including current location and health status.

The date/time reflects the last location update - this can be based on a trip, or a "heartbeat" between trips.
Using Search to lookup Places, Vehicles or Drivers
Use the universal search bar to find just about anything in your account (including Places, Vehicles, Drivers), or to lookup an address. This is a great tool for dispatching your drivers.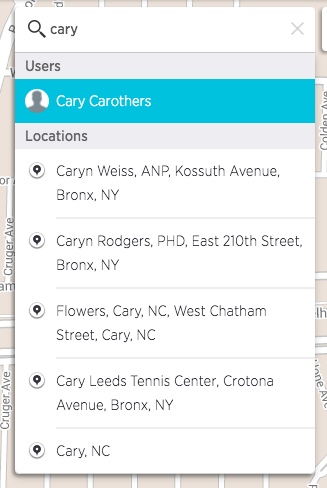 Address search: You can type in an address, a city, business name, and Zubie will search for the best match. Zooms to that location on the map. You can right click to save the location as a favorite place.
Vehicle/Driver search: Zooms to the current location and show the Trip List.
Saved Places search: Zooms to the place location, shows the 5 nearest vehicles and drivers, and shows Place Activity.
To find the 5 closest vehicles/drivers to a location, you can:
1. Right Click anywhere on the map, and choose "Find Nearby Vehicles".
2. Click on a saved Place Icon.
3. Search for an address or Place.
Zubie shows you the nearby vehicles, accounting for traffic as well as distance.

Clicking "Directions" will open Google Maps and allow you to share directions with a driver.
View Trip History
To view trips for a vehicle, first select the vehicle by clicking on the icon on the map, or choosing the vehicle in the list, like this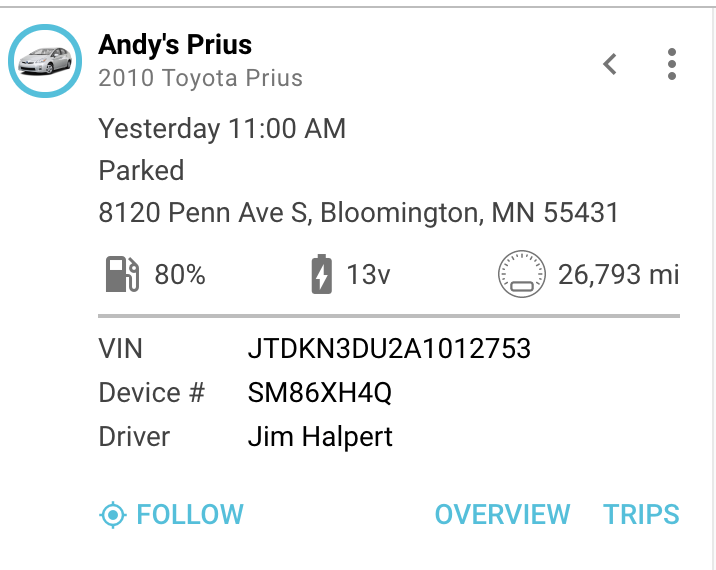 Click Trips to bring up a map and a list of trips for the most recent day with vehicle activity, which looks like this: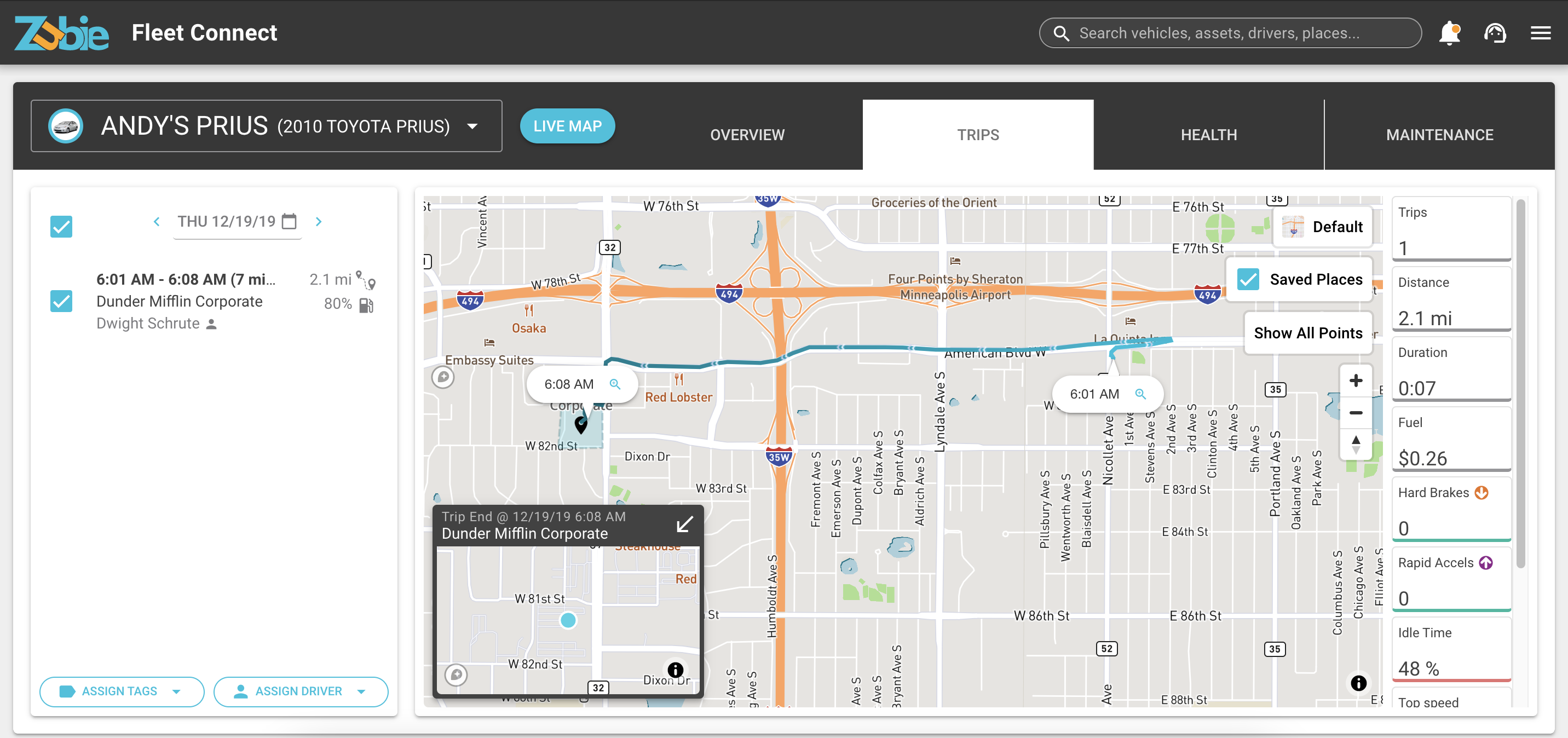 This will display 1) a Trip Stats section (on the right), which summarizes driving metrics for the selected time period, and 2) a History Map, which highlights the driving route plus driving events and 3) a detailed map inset of the end location of the trip, allowing you a quick overview without requiring zooming the map. For vehicles equipped with Zubie Dashcams, this will include a photo as well.
The trip trail is color coded based on speed limit compliance.
Red = Major Speeding
Yellow = Minor Speeding
On the map, just click any point to see the speed and speed limit. The red icons indicate a driving event, such as a hard brake, rapid accel, or high speed.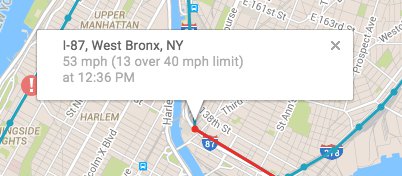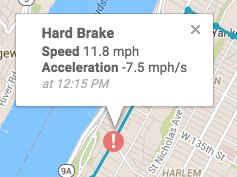 Edit Trips: Tags & Drivers
Completed trips can be edited for improving downstream analysis and scoring data.
Tagging
Tags can be used to identify personal versus business trips. All tags are saved and can be used for filtering your trip export report, or for integrating with expense tools like Expensify.
To tag trips:
1. Select or more trips in the Trip List.
2. Click the "Tag"

icon in the top of the trip section, and choose the tag you want to apply, or click "Remove" to clear tags from selected trips.
Changing Drivers
Zubie scores, and all driver-based reporting, relies on the correct driver being assigned to a vehicle before a trip begins. If this is missed for some reason, you can edit the driver here for one or more trips.
To change:
1. Select or more trips in the Trip List.
2. Click the Driver dropdown in the top of the trip section, and choose the driver you want to apply.
Trip stats and the dashboard will be updated (it will take 15-30 minutes before the dashboard reflects the change).
Monitor Vehicle Health
Checkout the current vehicle status directly in Live Map.
Vehicle Health includes the battery level, check engine light codes (if any), fuel level (if reported by the vehicle), odometer, and maintenance reminders.
1. To view health, select a vehicle via the map, list or search.
2. Click the "Overview" link on the card. Note that the card also shows basic health information including battery level.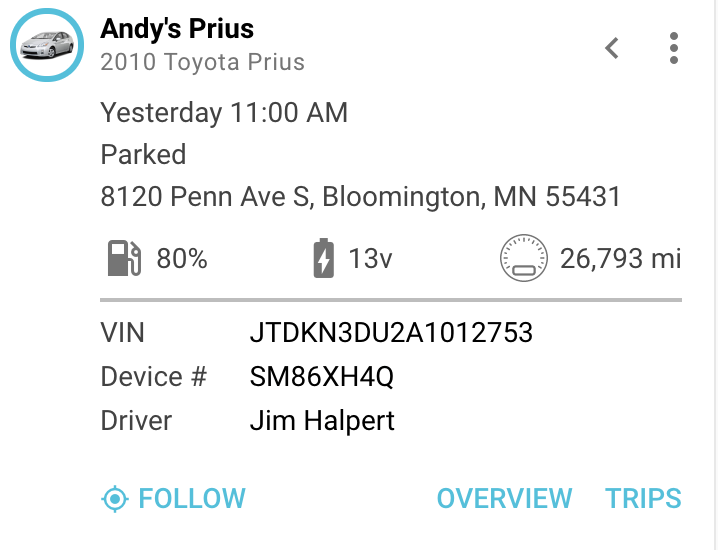 Once you click "Overview," from the next screen, click "Health" for details on diagnostic codes, or click "Maintenance" to check service history and maintenance reminders.
Manage Maintenance Reminders
To manage maintenance reminders, navigate to a vehicle using the steps above. Click the Maintenance section to view all reminders, and service history.
Checkout this article for more details.