The Zubie Business Dashboard is available for all Zubie Business users.
Open app.zubie.com > Dashboard.
The dashboard is a great tool for interactively understanding both fleet-wide trends, and the underlying details for vehicles and drivers.
Unlike scheduled reports which are based on fixed weekly/monthly schedules, the dashboard lets you analyze your data as far back as 13 months, for one day or a whole year.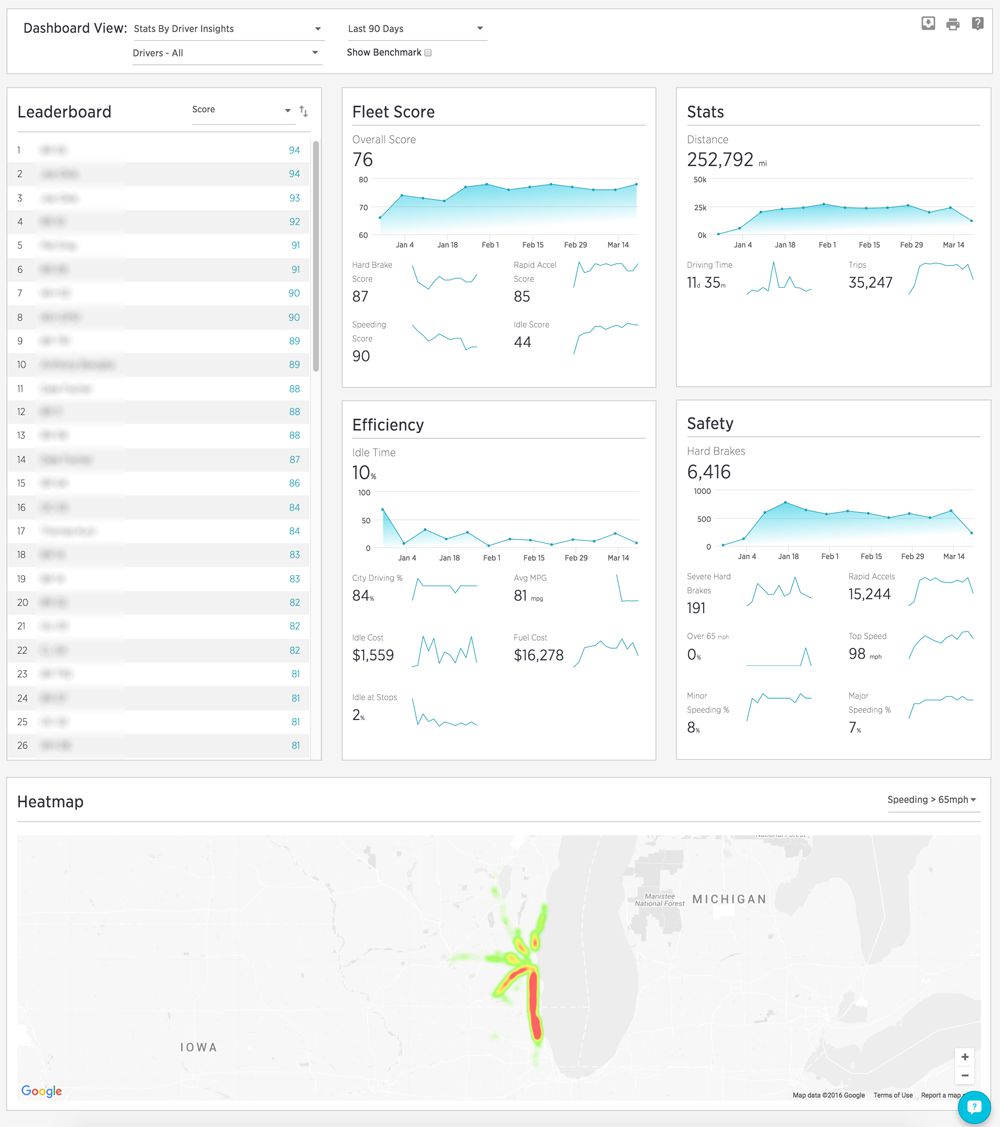 Dashboard Settings

 Views:
Stats By Driver - Ties to driver-based reports and scorecards.
Stats By Vehicle - Summarizes metrics by vehicle nickname.
Date Range:
You can select pre-defined date ranges, or custom date ranges.  Your data is available as far back as 13 months.
(Note the dashboard will load a little slower the more data you show)
Drivers (Or Vehicles) Filter:
Choose "All" to view the entire fleet.  Or drill down to a specific vehicle (while viewing Stats by Vehicle) or driver (Stats by Driver).
 Benchmark: 
Turn on the benchmark to see how your fleet or individual drivers compare to other fleets and drivers across Zubie Business.
 Export

 : 
Click the Export icon to download the raw data for the current view.  Exporting will create a CSV version of the leaderboard – listing either vehicles or drivers and all of their associated metrics. 
Leaderboard

The leaderboard lists all drivers (or vehicles, based on the view) with activity in the selected time range.  
You can change what metrics are shown, or the sort order. For example, to find the worst hard brakers, speeders, or just to get a list of mileage by vehicle. 
Summary Metrics
The right side of the dashboard summarizes performance in four ways:
Fleet (Or Driver/Vehicle) Score:  A weighted calculation of overall fleet performance.
Stats:  Distance, Drive Time and Trip Counts.
Efficiency:  Manage these metrics to drive down fleet costs.
Safety:  Manage drivers on hard braking, accels, and speeding.
The numbers are totals of the selected time period, and the graphs are days or weeks within that time period.  
Heatmap
Get a visual sense of fleet performance using this heatmap.  The brighter the color, the more events occured in that area.  
Zoom in to get a closer look at event locations.

You can view a map of 6 metrics:
Stops:  Locations where trips ended.
Hard Brakes:  Locations where hard brakes occurred.
Speeding > 65mph:  Locations where drivers are going faster than 65.
Stop Idling:  Locations where drivers are sitting for at least 3 minutes with the engine on.
Rapid Accels:  Locations where rapid acceleration events occurred.
Night Driving:  Driving activity during evening hours (9PM-5AM).
If you want to drill into the trends & heatmap for a specific driver, simply click their name in the leaderboard, or select it in driver list at top.
Tips & Tricks
Bookmarks:  Have a specific dashboard view you want to save or share?  Zubie tracks the exact parameters you are using, so you can just add a Bookmark in your browser to save that view and come back to it later.  
Mobile Access
This full dashboard can be accessed through your phone's browser!  Just login like normal from your phone.
The Zubie App also contains driver-based stats and metrics.