Use Groups to organize your drivers, vehicles and account users into a fleet hierarchy to match your company structure.
Use Groups to...
Restrict access and visibility by user. Group-level restrictions apply to:

Live Map
Dashboard
Regional Fleet Entities (Users, Vehicles, Device Claims)
Report Library
Notifications

Restrict access for account-level settings. When groups are used, only top-level administrators will have access to manage account-level Settings including billing/subscriptions, groups, tags and account preferences.
Enable aggregated group-level analytics in selected reports.
Groups are available to accounts on the Premium Tier.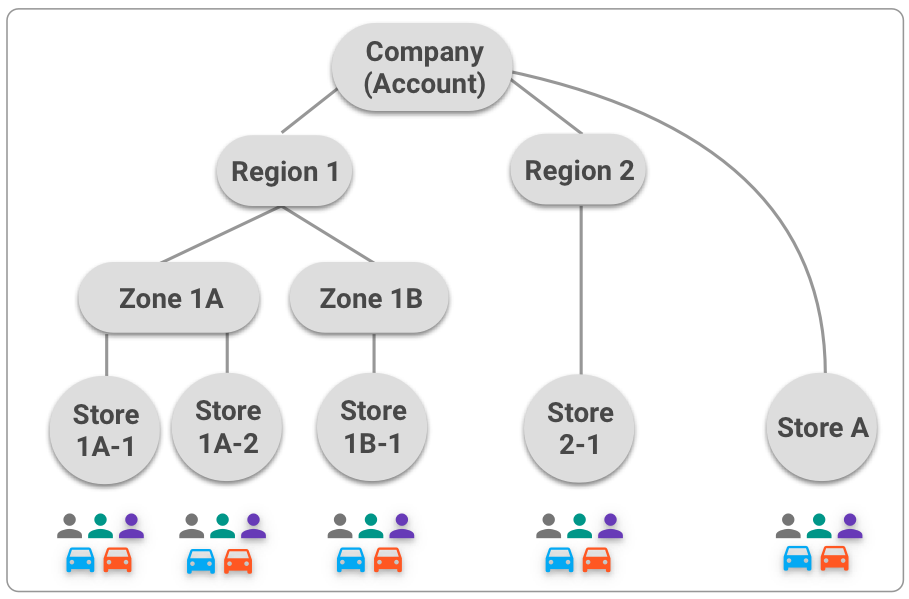 Key Things to Know
Groups are hierarchical. Setup a structure that aligns with your fleet with as many levels as you need (divisions, regions, stores, etc).
Users are assigned access to ONE OR MORE groups. Users can be assigned access to any node in the group tree, and will have access to all groups below. A user can have access to multiple groups that aren't related, even if not in the same level.
Vehicles can be assigned ONE group. When you add or edit vehicles, you will be prompted to assign them.
Driver Group Assignment. Drivers should be assigned to multiple group.
Key Steps to get Groups working for your account
Setup Groups
Assign Users to Groups *
Assign Drivers to Groups *
Assign Vehicles to Groups *
* If you don't assign users, they will have account-wide access. If you don't assign vehicles/drivers, associated trip activity will only be accessible at the account level, which is not recommended.
Setting up Groups (Admins Only)
Tip: Plan your group structure in advance. Add groups from the top-level down. Note you do NOT need to setup an account-level group.
Open the Zubie portal (app.zubie.com)
Go to Menu > Groups.
On the next screen, click Add Group.
Enter a unique Group Name. Choose the parent group (you can select a group at any level of the hierarchy) and click Save.
Repeat this process until your company structure is setup.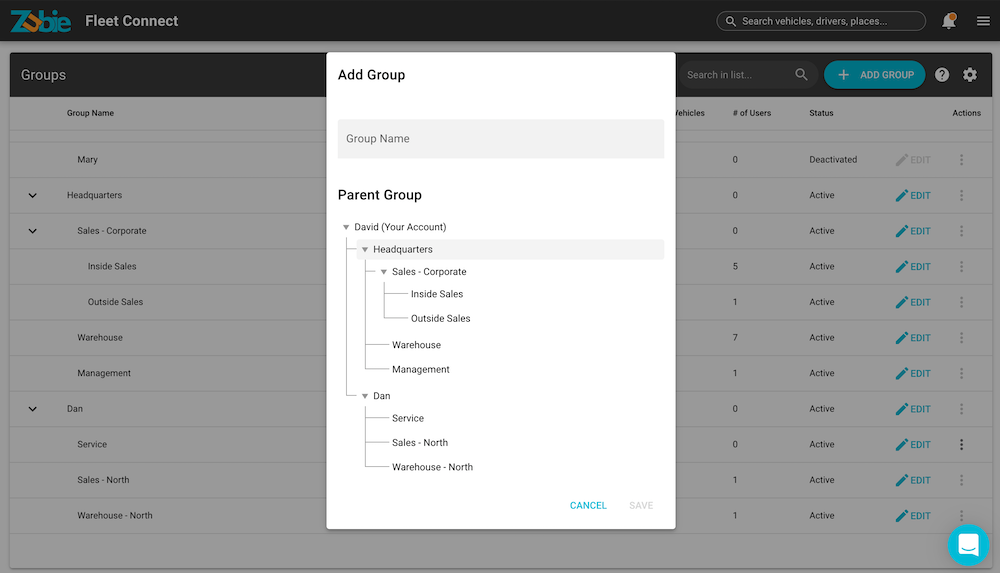 Once a group is created, you can edit the name, but a group can only be deactivated if no users/vehicles are assigned to the group level or any sub-groups. In other words, to deactivate a group, all users need to be removed or reassigned before the system will allow you to deactivate it.
Assigning Users/Drivers to Groups
Make sure you have created appropriate groups before proceeding.

Go to the

Menu ,

and select

Users

.

Click on Add User (or the Edit icon ) for a current User.
In the Groups field , select one or more Groups.
Click Save (at the bottom of the dialog box).
Assigning Vehicles to Groups
Make sure you have created appropriate groups before proceeding.
Go to the Menu and select Vehicles
To edit a single vehicle, click the Edit icon.
To assign multiple vehicles to a group in bulk, select the checkbox by the appropriate vehicles. A new control (Bulk Edit ) will appear.
From that control, select "Change Group."
Select one or more groups from the drop-down menu that appears.