Use Location Link to share a vehicle's real-time location with anyone until the date/time you specify.
This is a great way to let people who don't have a Zubie login locate a vehicle. Here are some examples of when our customers have used this feature :
Enabling asset recovery teams or law enforcement to track a stolen vehicle
Enabling partners like car dealerships to locate a vehicle on their lot
Sharing with impound lots to confirm a vehicle is there

Watch this video to see how it works!
To create a link:
Go to app.zubie.com > Live Map.
Select a vehicle, either on the map or list.
Click the share icon .
Select a link expiration date and time (one hour is the default).
Optionally, add a short note to share with the recipient, such as license plate number, car color or other helpful info.
Click on . A one-time use Location Link will be created.
Copy the Location Link, and paste in an email, SMS, or however you want to share the vehicle's location.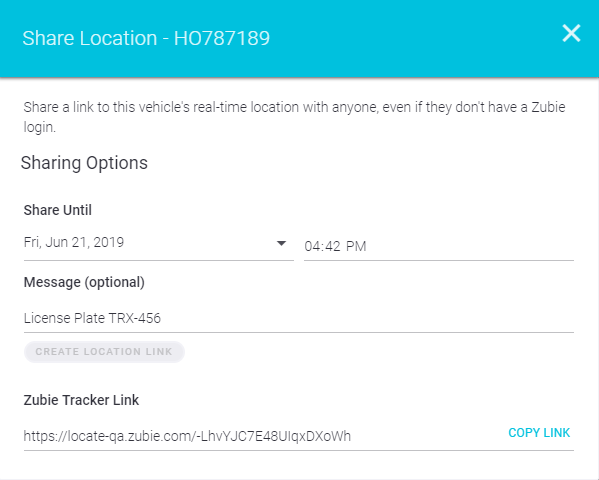 What recipients will see:
After clicking the link, recipients will be able to monitor the vehicle's real-time location in the Zubie Locator web page, from any browser.
The current location is displayed, and updated as new locations are received from the Zubie Device.
If the vehicle is in motion, a breadcrumb trail will be shown (This trail will not appear if the Locator page is closed and opened later).
Once the expiration time is hit, the recipient won't be able to view the vehicle location.
Notes:
Be careful where you share your link. Anyone with the link will be able to monitor the vehicle's location until expiration.